Cardiac Conditions Associated with Sudden Death
This course will teach you how to identify sounds associated with conditions leading to sudden death. Before taking this course you should have completed the courses concerning heart sounds and murmurs and be comfortable with the material.
Using this course
Each lesson in this course includes text describing the heart or lung abnormality and a simulated torso indicating the stethoscope chestpiece location. An audio recording of the sound is provided. Phonocardiograms or waveforms are included with each lesson. These waveforms can be a highly useful aid in learning to recognize heart murmurs. In addition, short videos clips illustrate the heart's motion for each abnormality. These animations indicates the origin of each murmur. Blood flow is also animated. For lung sounds, the source (location) of the sound can be revealed.
After completing a lesson, use the lesson table of contents to navigate to another lesson.
When all lessons have been completed, we recommend using the auscultation practice exercises or quiz. In order to gain a certificate of achievement, please complete the course lessons and practice drill during one session. Most users complete the coure's lessons and drill in 30-45 minutes.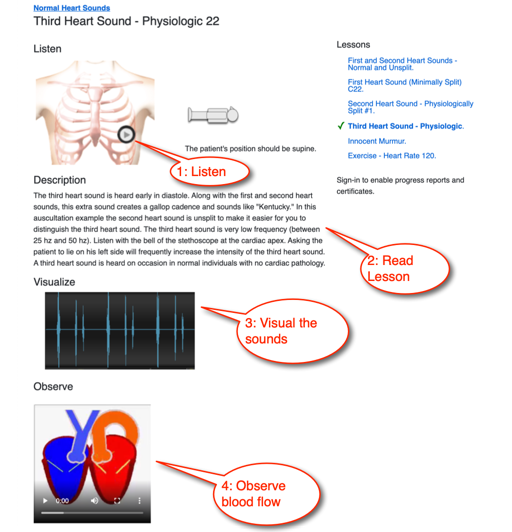 Contributor(s)
Heart and Lung Sounds Contributors: Dr. Jonathan Keroes, MD (Johns Hopkins), Cardiologist (ret.), David Lieberman, Heart Sound Simulation Consultant; Diane Wrigley, Physician Assistant and national CME instructor. Editorial review by Dr. Barbara Erickson, Author and Editor.